H series gearboxes
Description
Helical Gear Boxes Product Description
1.Heavy duty gearbox Torque Range: Up to 470000N.m
2.Helical Gear Boxes Output speed:1.7~1200rpm
3.Heavy duty gearbox Input power:2.2~5366kw
4.Helical Gear Boxes Mounting solution: foot mounted,shaft mounted,shrink disk mounted.
5.Heavy duty gearbox Input:shaft with key-way,IEC flange;
6.Helical Gear Boxes Output:hollow shaft with key-way,hollow shaft with shrink disk;
7.Heavy duty gearbox Shaft arrangment: A,B,C,D (detailed please see catalogue)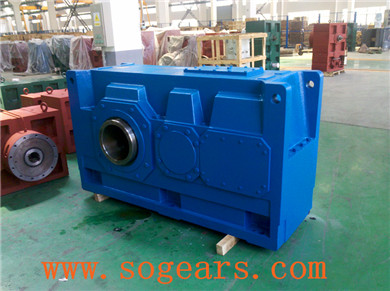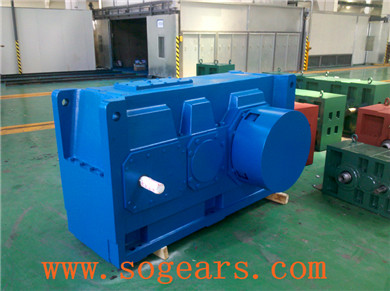 Heavy duty gearbox characteristics:
1.Helical Gear Boxes Housing material:HT250 high-strength cast iron ;
2.Heavy duty gearbox Housing hardness:HBS190-240;
3.Helical Gear Boxes Gear material:20CrMnTi alloy steel,other materials requested:17CrNi2Mo,20CrNi4A
4.Heavy duty gearbox Surface hardness of gears:HRC58-62;
5.Helical Gear Boxes Gear core hardness:HRC33-40;
6.Heavy duty gearbox Input / Output shaft material:42CrMo alloy steel;
7.Helical Gear Boxes Input / Output shaft hardness:HRC25-30;
8.Heavy duty gearbox Heat treatment:tempering,cementiting,quenching.etc.;
9.Helical Gear Boxes Machining precision of gears:accurate grinding, 6-5 Grade;
10.Heavy duty gearbox Noise (MAX):60~68dB;
11.Helical Gear Boxes Lubricating oil:GB L-CKC220-460, Shell Omala220-460;
12.Heavy duty gearbox Temp. rise (MAX):40°C ;
13.Helical Gear Boxes Efficiency:94%~96% (depends on the transmission stage) ;
14.Heavy duty gearbox Temp. rise (Oil)(MAX):50°C;
15.Helical Gear Boxes Backlash:≤20Arcmin;
16.Heavy duty gearbox Vibration:≤20µm;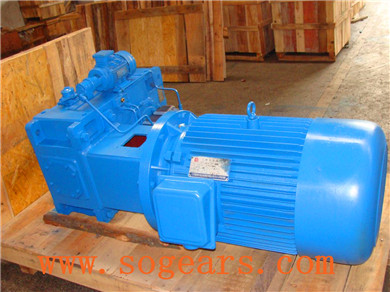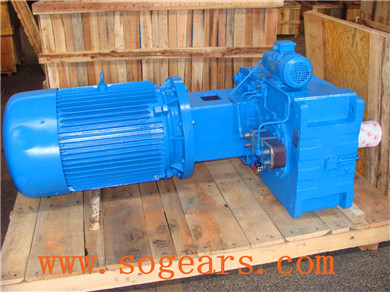 Helical Gear Boxes Applications:
Widely used in metallurgy, mining, steel, weighing, transportation, petrochemical, chemical, construction, textile, pharmaceutical, food, transportation, environmental protection, light industry, plastic, paper, parallel parking, lifting, Bridges, shipbuilding and other heavy industry department the mechanical transmission fields.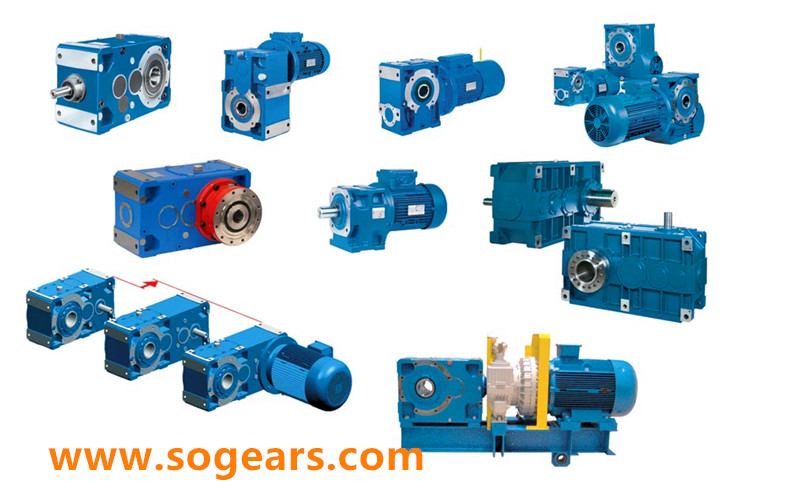 B series gearboxes
Description
1.Bevel Helical Gear box Specifications
HB series gearbox reducer Helical Gearbox
Bevel Helical Gear box Input mode: Motor connection flange, shaft input Gear Speed Reducer
HB gearbox reducer adopts the general design project, which can change them into special-for-industries gearboxes according to different requirements of customers. Bevel Helical Gear box apply sound-absorption box structure. The larger surface area and big fan, column gear and helical gearwheels all introduce the advanced gear-grinding craft which can lower the noise, improve the running reliability and efficiency of speed reducers. Meanwhile, HB gearbox reducer we manufacture is in accord with the quality standards of both China and abroad.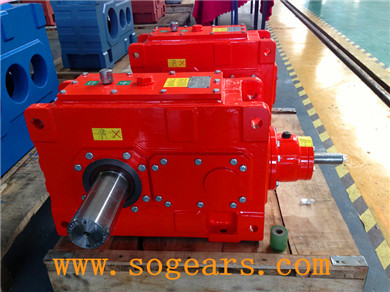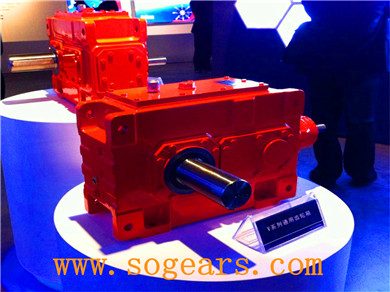 2.Characteristics of HB Bevel Helical Gear box:
Brand-new hard gear surface big power change gear set possesses big torque scope and adapts unit structure modularization design and can be installed horizontally and vertically and has solid shaft output, hollow shaft output and contract disk hollow shaft output. gearbox reducer applied scope is wide.Bevel Helical Gear box is made of high strength quality alloy steel through quenching and possesses high efficiency and long life gear and can bear large axial and radial load. Gearbox reducer features low in run noise, high in reliability, compact and so on.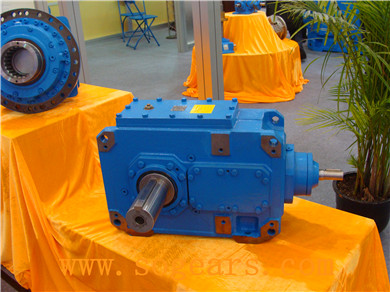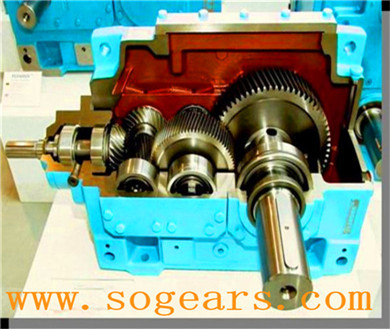 3.Details of HB gearbox reducer:
3.1 Bevel Helical Gear box: can perform vertical crossing axis, vertical functions, with its components species decreasing, and specs increasing.
3.2 Gearbox reducer Input mode: Motor connection flange, shaft input.
3.3 Bevel Helical Gear box Output mode: solid shaft with flat keys, hollow shaft with flat keys, bulge-tight discal coupling hollow shaft, spline coupling hollow shaft, spline coupling solid shaft and flange coupling solid shaft.
3.4 Gearbox reducer Installation type: horizontal, vertical, base-swing type, force arm-twisting types
3.5 B series Bevel Helical Gear box has specs ranging of 3~26, deceleration transmission grades range of 1~4, speed ratio: 1.25~450, if combined with our R K S series it will produce a higher speed ratio
Why Choose us:
1) All torque arms/fulcrums are plated to eliminate them being rusted in use.
2) The shaft mounts have labyrinth sealing on the conveyor end and input shaft end so that the oil seal is safe from contamination.
3) The front end of the shaft mount has a hub cover to protect the front oil seal as well as moving part of the gearbox.
4) Input shaft front bearing is a roller bearing as it takes in more radial load from the belt pressure.
5) Breather plugs are extended so that the dust does not clog the breather hole.
6) All oil seals imported from Taiwan.
7) Our gear units now have higher load capacity as the gears have been redesigned. 8) All gears are case carburised to a casedepth and ground inhouse.
9) All gear units are machined on a CNC machining center so are very accurate in alignment.
10) Finish of all gear units are far superior to any other brand being sold out.
11) The shaft mounts are available with keyed hollow shafts or hollow taper bores with taper clamps.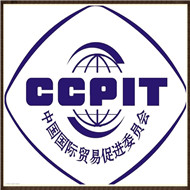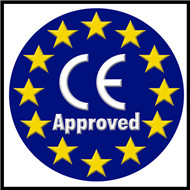 Shipping and Package:
Packaging Details: Standard carton/Pallet/Standard wooden case (depends on order quantity).
Delivery Detail:   10-15 working days upon payment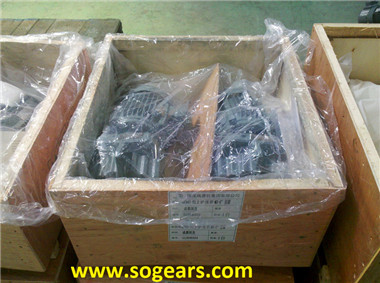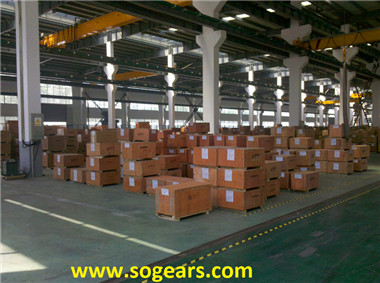 FAQ:
1, Q:what's your MOQ for each series gearbox ?
A: 1unit is ok for different types gearbox motor
2, Q: What about your warranty for your gear reducer with motor ?
A: one year ,but except man-made destroyed
3, Q: do you accept OEM with cusotmer-logo?
A:  yes, we have about 15years OEM experience, now we focus on our own brand.
4, Q: how about your payment terms ?
A:  TT,  western union ,paypal. 100%payment in advanced less $5000 ,30% as deposit, balance beofre delivery if order value over $5000.
5, Q: how about your packing ?
A: plywood case ,if you need more, we can pack all goods with pallet
6, Q: What information should be given, if I buy gearbox from you ?
A: rated power, Gearbox ratio, input speed,Mounting position,More details, better!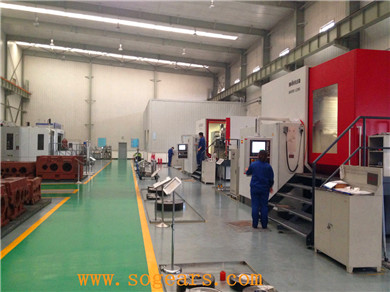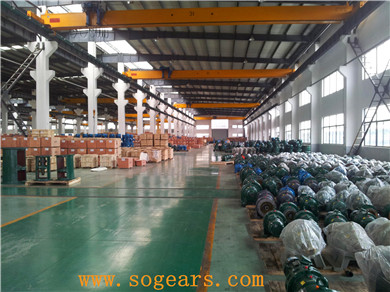 We are manufacturing all kinds of gearbox, speed reducers and AC motors.
We have the lowest prices with high quality.
If you are interested in, please contact with me.
 Shirley Zhang ( Sales Department; Miss. )
NER GROUP CO.,LIMITED
Tel:+86-535-6330966
Mobile:+86-18563806647
http://www.sogears.com/
https://twitter.com/gearboxmotor
https://www.facebook.com/gearboxmanufacturer
Viber/Line/Whatsapp/Wechat: 008618053206993
E-mail:
This email address is being protected from spambots. You need JavaScript enabled to view it.
; Skype ID:
This email address is being protected from spambots. You need JavaScript enabled to view it.
Factory Add: Wujin, Changzhou City, Jiangsu Province,China